About Us
We're a husband and wife team that can, as your needs dictate, expand to include colleagues who will come on board to assist with photography, writing, illustration, graph and mapmaking, mailing, etc. We work with wonderful local printers, as well as specialty printers located throughout the country. Mary started Acorn Studio in 1990.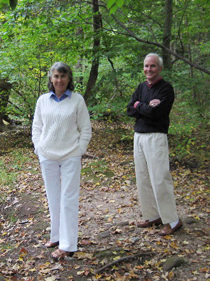 Mary Crombie Geer
After graduating from Skidmore College, in 1972, Mary operated an art studio at the Farmington Valley Arts Center, in Avon, CT, for six years and then, for eight more, a studio at 56 Arbor Street, in Hartford, creating woodcuts, hand-silk screened cards, hand-made paper, collages, banners and prints. Mary draws on her fine art background to create original graphic designs.

Chip Geer
After working for more than fifteen years in grantmaking—managing an insurance company's community relations program—and the non-profit sector—directing an alliance of institutions based in an urban neighborhood; Chip joined forces with Mary in 1994. Chiefly responsible for handling day-to-day administrative duties, he's good at and enjoys editing, proofreading, writing, crossing T's, dotting I's.